The more we are centered and aware of our own greatness,
the less impact the world has on us.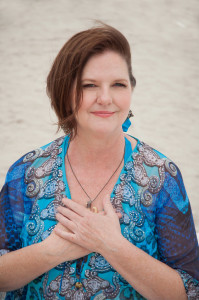 If you've found your way here, I know something about you:
You are walking a path towards wholeness.
I too am on a life-long journey of self transformation towards wholeness. It hasn't been easy, but today, I live a magical, joy-filled, happy life that I never dreamed was possible.
It wasn't always that way. Like you, I have also overcome obstacles and challenges, and lived through times of great darkness. The wisdom I've gained from these experiences has uncovered a profound calling to share what I've learned with you.
When I was deep in the pain of my darkest moments, I knew I had to do something, or I wouldn't survive. Taking that first step out of the darkness was one of the hardest things I've ever done.
And the day came when the risk to remain tight in a bud was more painful than the risk it took to blossom. ~ Anaïs Nin
I realized I wasn't happy, but I didn't know what would make me happy. I could tell you in detail what would make my kids and my then-husband happy, but I had no clue about myself. I had all the 'things' one strives for in our culture: a beautiful family – married with 2 kids; a beautiful home that was paid for and no other debt; enough money to make our lives pleasant and easy; we could travel when we wanted; eat out when we wanted; etc. It was a good life and yet I was profoundly unhappy.
So I did what I do best. I went exploring.
It is one of my passions in life to learn and experience new things. With degrees in math, chemistry, and programming, plus my work experience in systems and technology, my mind was stimulated . . . but something was missing. I spent a lot of time living in my head, so I started exploring other avenues.
I studied energy healing for many years, connecting with spirit guides and healing guides in service to the healing of the client. At the same time, I immersed myself in shamanism, which became my spiritual practice.
I learned mindfulness-based, body-centered approaches to emotional healing, and the power of all that combined. I learned the impact of radical forgiveness and the divine perfection of everything in life. I learned about the 5 love languages, and the 5 languages of apology. I learned about boundaries, what's my shit and what's not, and the power of No.
I did both intellectual learning and experiential learning. I learned to trust my own inner wisdom and I learned how my body always knows the answer. I learned how to live my life in the intellectual, experiential, and the spiritual all at the same time. Basically, I learned how to be an embodied person.
Interwoven through all of this learning was a desire to repair something in my relationship that I couldn't seem to do on my own, and as I turned to explore pleasure for myself, it anchored in my body everything I had learned. Yet, there was still something missing. I had never considered sex as a piece of the whole picture. It was always either taboo, or for procreation, or an enjoyable thing to do. I had learned many sexual practices and techniques by the time I heard Jaiya speak about the The Erotic Blueprints™, but it was then that something finally clicked. The Erotic Blueprints™ became the lens through which I view the world.
My heart and joy lies in helping a woman transform, and being able to witness the brilliance of her turned-on radiance creating magic with every step she takes.

My Details - For those who are interested in that sort of thing
I have a bachelor's degree in Math and Chemistry with a minor in Computer Science, so I come from an analytical/scientific background to this more esoteric area of expertise.
I have a certificate in Energy Healing from the Lionheart Institute. A 2 1/2 year intensive program based on the Hands of Light techniques. It was a whole system approach to energy healing.
I studied Shamanic Practices intensively for 3 1/2 years with my mentors and friends Hank Wesselman and Jill Kuykendall at Shared Wisdom.
I am a graduate of the Hakomi Institute. Hakomi is a mindfulness based body-centered client-centered approach to healing old wounds and patterns that are no longer serving.
I've been participating in The School of Womanly Arts for many years and I highly recommend Regena Thomashauer's latest book Pussy: A Reclamation.
I studied The Art of Feminine Presence with Rachel Jayne Groover.
I studied Qoya, a beautiful movement practice about remembering our divine being with Rochelle Schieck.
I am certified in Plant Based Cooking from Rouxbe. I have been gluten free for over 20 years which began my fascination and explorations with nutrition.
I have led families, kids and adults on multi-day outdoor adventures for over 20 years teaching general outdoor skills, camping, canoeing, kayaking, hiking and backpacking.
I have studied photography at the Rocky Mountain School of Photography.
I live part time on the Big Island of Hawaii where I am co-owner of a farm where we grow macadamia nuts, coffee, dragon fruit, many types of citrus, bananas, papaya, and cacao.
I am a mom, an artist, a gardener, a farmer, an animal lover, a lover of peace and a world traveler.